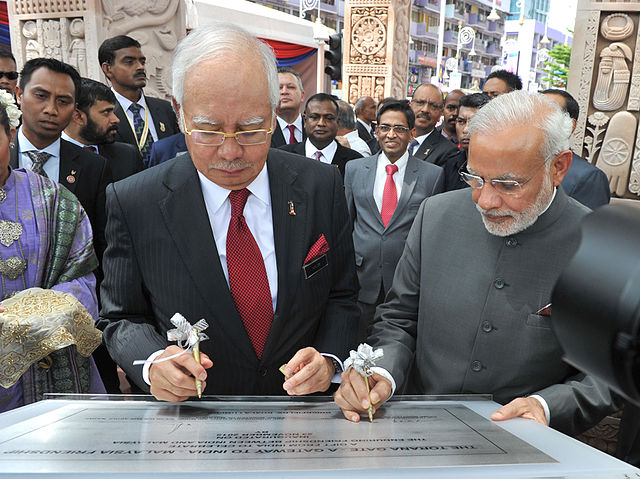 Malaysians went to the polls Wednesday in one of the country's closest ever elections which pits scandal-hit Prime Minister Najib Razak against his one-time mentor, 92-year-old former
authoritarian leader Mahathir Mohamad.
Najib is seeking to retain power at the head of a regime that has ruled Malaysia since independence in 1957, but veteran ex-leader Mahathir's shock comeback has upended the election race.
Angered by a massive financial scandal that has tarnished Malaysia's international image, Mahathir has teamed up with an alliance of parties that opposed him when he was in power, and which includes jailed opposition icon Anwar Ibrahim -- his former nemesis.
Najib's ruling Barisan Nasional (BN) coalition is seen as likely to retain power mainly due to an electoral system critics say has been heavily manipulated to favour the government, but analysts predict the government will lose the popular vote for the second consecutive election.
Malaysian elections have long been plagued by allegations of fraud and as voting got underway, both opposition leaders and senior BN members claimed their phones had been jammed by spam calls in an attempt to stop them communicating with their teams.
The race is expected to be tight. The opposition alliance has gained ground in recent weeks as Mahathir, who ruled with an iron fist for 22 years, has chipped away at the government's key support base, the Muslim Malay majority.
Early signs pointed to a high turnout, which could help the opposition, with long lines forming at polling stations across the country. The Election Commission said that turnout was 55 percent as of 1:00 pm (0500 GMT).
"We can see a big difference in terms of enthusiasm from voters" compared to previous elections, said commission chief Mohamad Hashim Abdullah.
He put the early rush down to a forecast of rain in the afternoon and messages circulating on social media warning people to vote early to prevent their names being used in election fraud.
Polls close at 5:00 pm (0900 GMT), with results expected late Wednesday or early Thursday.
- Heavyweights cast ballots -
Mahathir cast his ballot alongside his wife in the northern city of Alor Setar, his birthplace, with a huge crowd turning out to greet them.
"I feel very good, I am confident unless Najib cheats," he told reporters.
Najib, a political blue blood and son of Malaysia's second prime minister, voted in his constituency of Pekan.
"The most important thing is for people to decide on the destiny of this nation, and it must be based on facts," the 64-year-old told reporters.
Najib is under pressure to score an emphatic win after the government lost the popular vote for the first time at the last elections in 2013, and observers say his position as prime minister could be under threat if he does not do well.
The controversy surrounding state fund 1MDB has dogged Najib since the story exploded in 2015. Billions of dollars were allegedly stolen from the fund, which was set up and overseen by Najib. The leader and 1MDB deny any wrongdoing.
But in rural areas the rising cost of living, which has hit poor Malays hard, has been the main concern particularly after the introduction of an unpopular sales tax in 2015.
As polls opened, senior opposition figures claimed their phones were flooded with spam calls from abroad to hamper their communications, with Lim Kit Siang -- a key opposition leader -- accusing the ruling coalition of "dirty tricks".
But Najib tweeted that many BN leaders' phones had been hit by similar attacks while the internet regulator blamed anonymous automated "bots" and said it was investigating.
While the opposition has gained ground, they face an uphill battle to defeat a coalition that has never lost an election.
Critics have accused BN of gerrymandering with a redrawing of electoral boundaries that created constituencies more likely to back them, while activists have alleged numerous irregularities in the electoral roll.
The opposition has been targeted by authorities during the campaign, with police launching a probe into Mahathir for allegedly breaking a controversial new law against "fake news" after he claimed a plane he chartered was sabotaged.afp