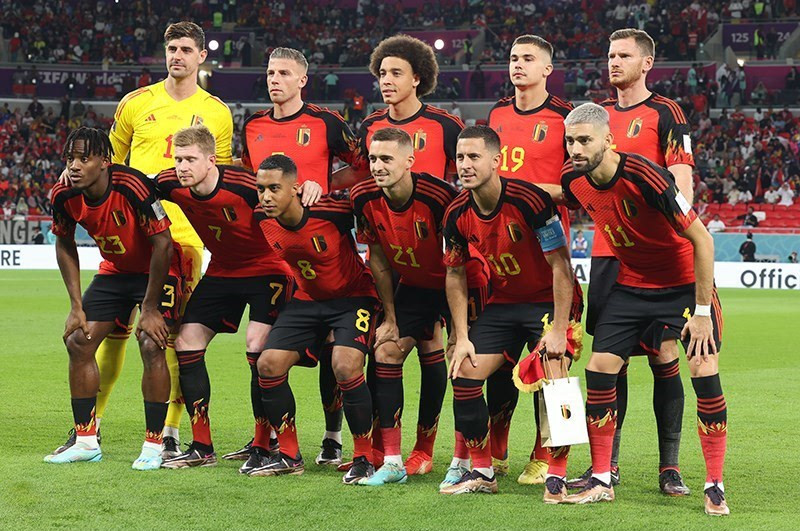 Following a narrow 1-0 victory over Azerbaijan on Saturday, Belgium secured an impressive 5-0 win against Estonia in the fifth round of UEFA Euro 2024 qualifying.
While Belgium's qualification for the tournament appears imminent, concerns persist regarding their defensive capabilities against stronger opponents.
The match against Azerbaijan failed to instill confidence, as Belgium's lone goal was the result of a fortuitous deflection. The team, ranked 121st globally, even faced adversity at times during the game. "Our performance can and should be improved," remarked coach Domenico Tedesco.
In contrast, Tuesday's match in Brussels against Estonia, a similarly modest team, unfolded differently. The visitors conceded a goal just three minutes into the game and never appeared likely to challenge the Belgians.
Defensive Vulnerabilities
However, both games showcased critical errors in Belgium's defense, emphasizing that there is room for improvement. While Azerbaijan and Estonia may not have capitalized on these mistakes, stronger adversaries are likely to do so. The upcoming matches against Austria and Sweden in October will serve as a more rigorous assessment of the Red Devils' progress under Tedesco.
Several mitigating factors are at play. Tedesco is still relatively new to the coaching role, and this is a youthful team, with many players retiring after the World Cup in Qatar. Furthermore, Thibaut Courtois and Kevin De Bruyne, two key players for Belgium, are both sidelined with injuries for the foreseeable future.
The five goals against Estonia undoubtedly boosted the team's confidence, and there were additional reasons to celebrate. Jan Vertonghen marked his 150th appearance for the national team by scoring the opener. Meanwhile, Romelu Lukaku notched his 76th and 77th goals for Belgium, placing him among only 11 players in the history of the sport with superior records.
Belgium's qualification for Euro 2024 appears almost certain, thanks to Austria's victory over Sweden. The clash in Vienna in October will determine the group winners, as both countries currently have 13 points, with Belgium leading on goal difference. The top two teams in each group secure direct qualification, with the group winner gaining an advantage in the competition's draw for the group stage. Photo by Tasnim News Agency, Wikimedia commons.