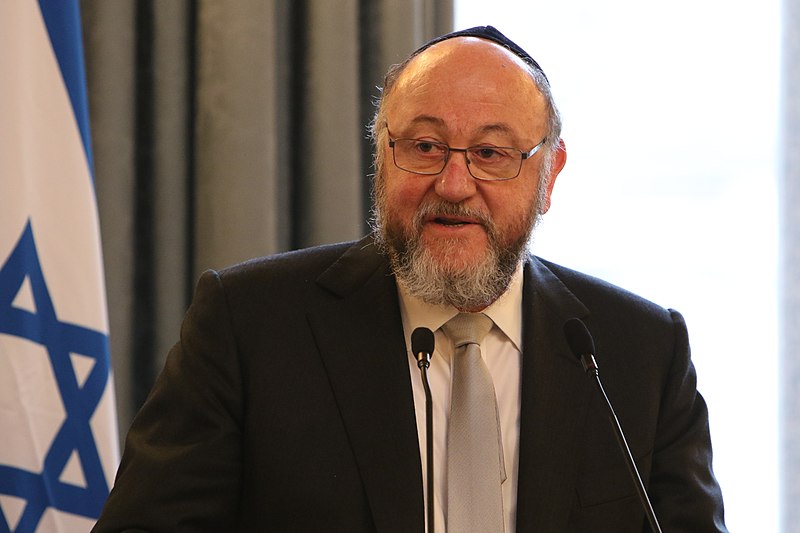 Chelsea FC and Borussia Dortmund FC recently rededicated themselves to the fight against antisemitism and racism in all its forms ahead of their crucial Champions League game.
The leadership of both clubs joined the Chief Rabbi for a service commemorating the life of Julius Hirsch, a German-Jewish footballer who fought for his country in World War I but was then murdered by the Nazis in World War II simply because he was Jewish.
Jonathan Goldstein, a director and co-owner of Chelsea, and Carsten Cramer, a director of Borussia Dortmund, attended the service alongside Chief Rabbi Sir Ephraim Mirvis. Goldstein spoke at the ceremony, honouring Hirsch's life and reiterating the clubs' shared commitment to combatting antisemitism and memorialising Jewish athletes who lost their lives in the Holocaust. Cramer also paid tribute to Hirsch and read out a message from Andreas Hirsch, Julius' grandson, emphasising the importance of standing up against antisemitism, racism, and hate.
The Chief Rabbi lit a candle in memory of Hirsch and said a prayer for him and the six million Jews murdered in the Holocaust. He praised the proactive stance that Chelsea has taken against antisemitism and all forms of xenophobia and racism, and commended the improvement made at Stamford Bridge over the past few years.
In 2018, Chelsea launched its "Say No to Antisemitism" campaign and displayed a mural of three footballers murdered in the Holocaust, including Julius Hirsch, on Stamford Bridge stadium for two years. The mural has since been moved to The National Holocaust Centre and Museum. The club has also been working with the centre to create an antisemitism education program for secondary schools, which held its first session at the iconic stadium last week.
Lord John Mann, the government's independent adviser on antisemitism, also praised the work of both Chelsea and Borussia Dortmund. Mann lauded Dortmund's dedication to combatting antisemitism in Germany and stated that Chelsea has done more than any other UK football club to combat antisemitism. He commended the club for continuing its work against antisemitism, even after a change in ownership and leadership.
The ceremony was held to honour Julius Hirsch's life and to raise awareness of the importance of combating antisemitism and racism. Hirsch was a highly accomplished German footballer who played for multiple clubs and the German national team. Despite his achievements, his position as a Jewish man in Nazi Germany resulted in his deportation to Auschwitz-Birkenau, where he died in 1943. The event serves as a reminder that, if left unchecked, antisemitism and racism can have dire consequences.
The service rededicates both Chelsea and Borussia Dortmund to the fight against antisemitism and racism. By publicly acknowledging the importance of combating these issues and memorialising those who lost their lives in the Holocaust, both clubs hope to inspire others to take a stand against hatred and prejudice. The service also demonstrates the power of football to bring people together and promote social change. Photo by Foreign and Commonwealth Office, Wikimedia commons.