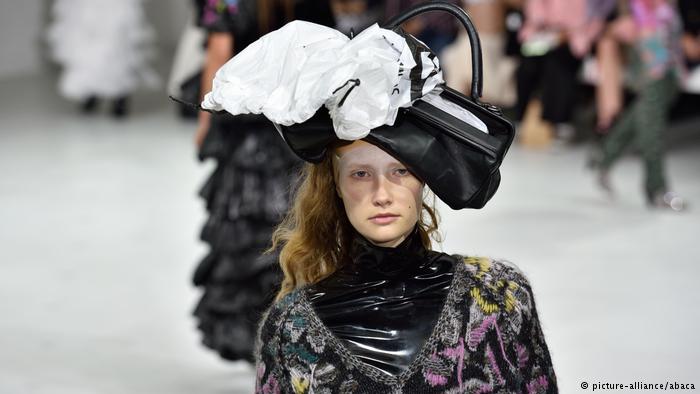 Top fashion designers set out Sunday to prove the saying that a stylish woman can even look good in a bin bag.
Belgian husband and wife team Filip Arickx and An Vandevorst turned black plastic bin liners and dry cleaning sheaths into skirts and elaborate embroidered ball gowns in their debut Paris haute couture show.
Haute couture is the very pinnacle of the fashion world, with only an elite band of designers allowed to show their luxurious handmade creations in the French capital, some of which cost tens of thousands of dollars.
The pair – collectively called A.F. Vandevorst – set out to challenge that aesthetic with a punkish cavalier show which also featured rubbish bag veils.
Rather than demure debutantes in puff balls of taffeta and silk, some of their models had the air of runaway nightclubbing nuns.
Others wore dashing hussar jackets and trousers matched with thigh-high boots and skin-tight PVC trousers.
An Vandevorst told AFP the show was an ode to the joy of dressing up with anything you can find to hand.
"It's about total freedom and creativity, and a woman who lives out of her suitcase... transforming old stuff into new," she added.
"She takes things that she finds like a bin bag and embroiders it. She is so creative that the material doesn't matter.
"She is so chic and so sophisticated she can turn anything with her natural flair - poof! – into something great."
A handbag is thus transformed into a hat, and whole line of wardrobe staples – leggings, jackets and tops – into head dresses and wimples. -- AFP