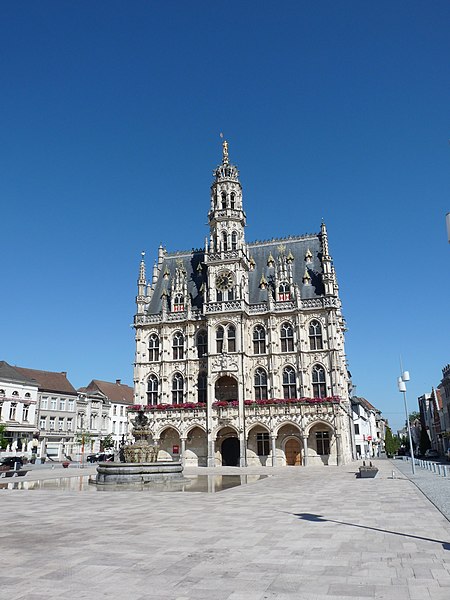 The federal police have arrested the operator and coach of a fitness club on Kortrijkstraat in Bevere (Oudenaarde). During a large-scale judicial operation targeting doping, with a total of
41 raids across Flanders, the police found €140,000 in cash and five firearms at his home. In total, 42 suspects were arrested.
At the request of the Public Prosecutor's Office of East Flanders, the Federal Judicial Police (FGP) of East Flanders initiated an investigation into a fitness club in Oudenaarde regarding human doping (intended for human use). It was alleged that customers of the fitness club could obtain doping substances and receive guidance for their "hormone treatment." The investigation revealed that the fitness club remained open during the mandatory COVID-19 closures. The Public Prosecutor's Office of East Flanders requested the examining magistrate in Oudenaarde to continue the investigation. It was found that the operator of the fitness club was personally profiting from the trade of human doping and advising athletes on its use.
Throughout Flanders
On May 31, under the coordination of the FGP of East Flanders, a total of 41 raids were conducted in East Flanders, West Flanders, Antwerp, and Limburg. The raids took place at the fitness club, the main suspects' residences, and suspected users' locations. In total, 42 suspects were arrested, and in addition to being interrogated, they also provided urine samples. The examining magistrate brought four suspects before the court, two of whom were placed under arrest warrant. These included the 28-year-old operator of the fitness club and his 62-year-old coach.
Porsche and Rolex
During the raids, significant amounts of human doping (intended for human use), non-compliant medicines, and dietary supplements were found at most locations. As part of the investigation, approximately €140,000 in cash, a Porsche, and a Rolex were seized from the main suspects. Additionally, five firearms with ammunition, silencers, and a baton were also confiscated. Several kilograms of cannabis were found in a member's possession at the fitness club. In total, more than 250 police officers from the Local and Federal Police participated in the operation, along with various specialized agencies.
Heart Failure
The use of human doping has a detrimental impact on health. It can lead to hormonal problems or even heart failure. Moreover, there is also the element of competition manipulation in bodybuilding competitions. This action sends a clear signal that justice and the police consider such practices unacceptable in the interest of everyone's health, and similar actions may follow in the future. Photo by Smiley.toerist, Wikimedia commons.